Is Web Design Hard? What You Need To Know About Designing A Website!
Are you wondering is web design hard?  Here we will go over everything you need to know about designing a website from start to finish!  Get ready to learn if designing a website is really that complicated!
Yes. Designing A Website Can Be Difficult
Just like anything else, designing a website can be hard. It can be hard to do if you are not skilled in the trade. Coding and design skills are in high demand. Web designing can be a daunting task, even if you are an expert. Many questions must be addressed when designing a website. That is why you should always hire a professional to help you with your website. We will talk about the benefits of having a web designer on your side.
Learn more about what is custom web design here before you start!
Benefits Of Hiring A Professional Web Developer
Statistics
If you decide to do your own web design, you could face some problems. Poorly designed websites will have negative effects on you. Companies such as NJ based systMD LLC offer professional web design services in addition to a range of hosting services and app development too. They are a top rated company in NJ for custom web design and rental websites.
Here are a few statistics about poorly designed websites.
¾ of people admit that they judged a company's ability based on their websites.
Over 50 percent of those on the internet will not recommend anyone who has a poorly designed mobile site.
Almost 40 percent of people will not use the website if the layout or content is not interesting or attractive.
Those who were given fifteen minutes to read an article were drawn to websites with a beautiful design over those with a simple website. This was true for 2/3 of all people in that study.
Reasons to Hire a Professional
There are many reasons to hire a professional. We will talk about some of the reasons here. You can hire a web designer to help you with an existing website or a new website. We will discuss some of the benefits that a web designer can have.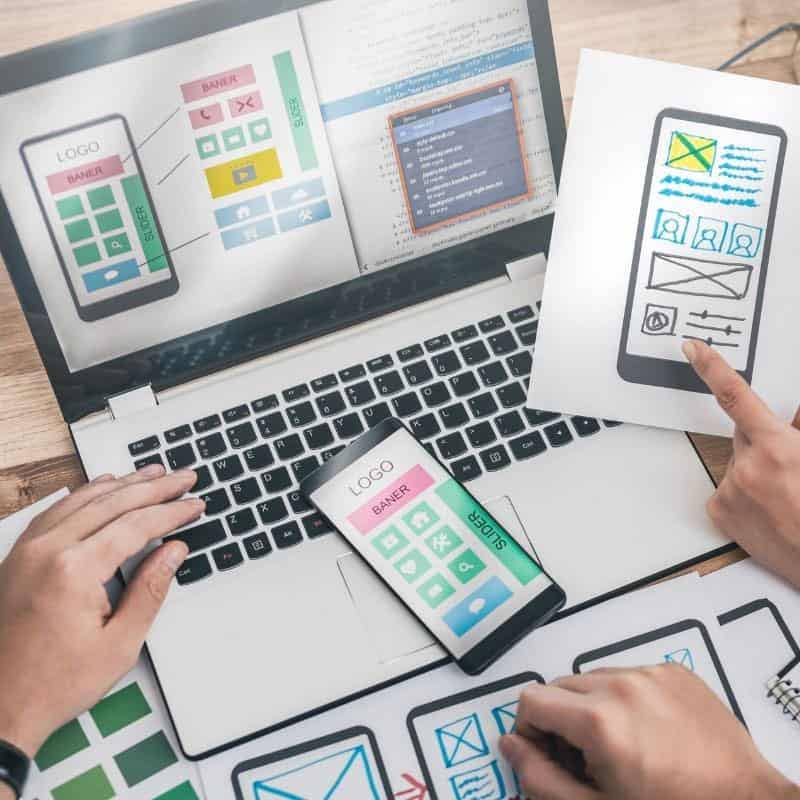 High-Quality Website
The biggest benefit is that you get a high-quality website. It is built based on your needs. Web designers also know what to add and what to eliminate. Those who design websites will know what attracts readers and makes them stay away.
You may find that there are free design templates available. However, these sites are bare. There is nothing unique about them. You may get a website created for free, but it will not be a top-of-the-line website.
You need to consider the needs of your customers and the services you offer. This is what your web designer will need to know. Once the web designer knows what you want, they can do their job. You want something that is going to draw the readers in and keep them hooked.
Learn how to choose a color palette for your website before you begin the design process!
Easier to Use
It would help if you made the website user-friendly. If the user cannot easily navigate the website, it is a dud. You want a web designer that understands this concept. Most designers should. Your web designer should ensure to include your contact information. This is essential. You want your target audience to be able to reach you.
The web designer will designate specific pages for specific purposes. For example, your contact information will be separate from what you sell. The web designer will also determine the best way to display your products. This is done when a person is selling more than a few products. The web designer will determine the best way to allow users to find what they need. It is all about placement.
If the website is not simple to navigate and find information, people will leave. If they cannot get the benefits of your business with ease, they will find someone else. Your web designer will ensure that the user has easy access navigating the website.
Balance
Web pages are just that, pages. You would not want to read a book with words all over it. You want your pages simple. The page should still deliver a message. However, if your website is too simple, this can cause issues too. Balance is what you need.
A web designer will make a website that shows your products or services and their values. A professional web designer will take your website up a notch. Your products or services will be displayed readily on the home page of your website. However, a professional will know when enough information is enough.
Remember, clutter can cause someone to leave too. You do not want something too simple or too hard to navigate. You also do not want information that does not get the point across. You want something in the middle to keep everyone engaged in your site.
Wrapping Up: Is Web Design Hard?
Creating a website for your business can be difficult. That is why you should allow a professional to help you. This will allow you to make more money and determine your client base. A successful website can help you determine what the consumer wants. The more you appeal to the consumer, the better. Web design is difficult and hiring a professional will help ease that load off your shoulders. Plus, a web designer can help you strategically as well. Remember, the more traffic on your website, the more people who can purchase your services or items.
You should now know the answer to the question is web design hard.