What is Custom Web Design?
We are going to talk about what custom web design is and how the process works. If you are interested in learning more about what is custom web design and how it works, then stay tuned. We have a lot of information on custom and professional web design and what exactly the term means and indicates.

What Exactly is Custom Web Design?
Custom web design is a very thorough process. Some web design agencies consider custom web design to be a completely customized site that is developed using HTML and CSS. Other agencies may consider custom web design to be design of a website that is customized using a page-builder such as Elementor.
And neither opinion is right or wrong.  It just depends on who you talk to.
The client will tell someone what they want in their website which could include the following: 
There are a lot of things that a custom web design is. The first thing that needs to be done is contacting the client. The client and the web designer work together to put together a website fitted for your needs. Keep in mind that when the web designer receives all the information from the client, it is going to be a prototype. The designer will work with the client to achieve what he or she is looking for.
PRO TIP: Companies such as systMD LLC offers professional, custom web design services. They have two locations in Northern New Jersey. One is in Little Falls and the other is in Lincoln Park.  If you're looking for a custom e-commerce website or a custom rental website for your business, systMD is the company to call!
How Custom Web Designs Work
There are a few different ways in which a web designer can choose to make a custom web page. One thing that is common is that of what is known as a Themer. This is when someone puts their information into a pre-designed area. The web page designer will then make it their own so that it is not like another site. This is a simpler way of doing this, however, it is not the only way. It is also important to note that people in the web design industry do not like people who do this. Themer are not considered a web designer to other web designers. 
Different Processes
For Custom Web Design
There are a few different processes to this. We discussed one above in which many people do not like, however, we are going to talk about the most common type of web design process so you know how it will go. 
While some web design agencies may use a theme or template to start and completely customize it to their client's liking, other agencies may work all in code. You will need to clarify this when you consult with an agency near you.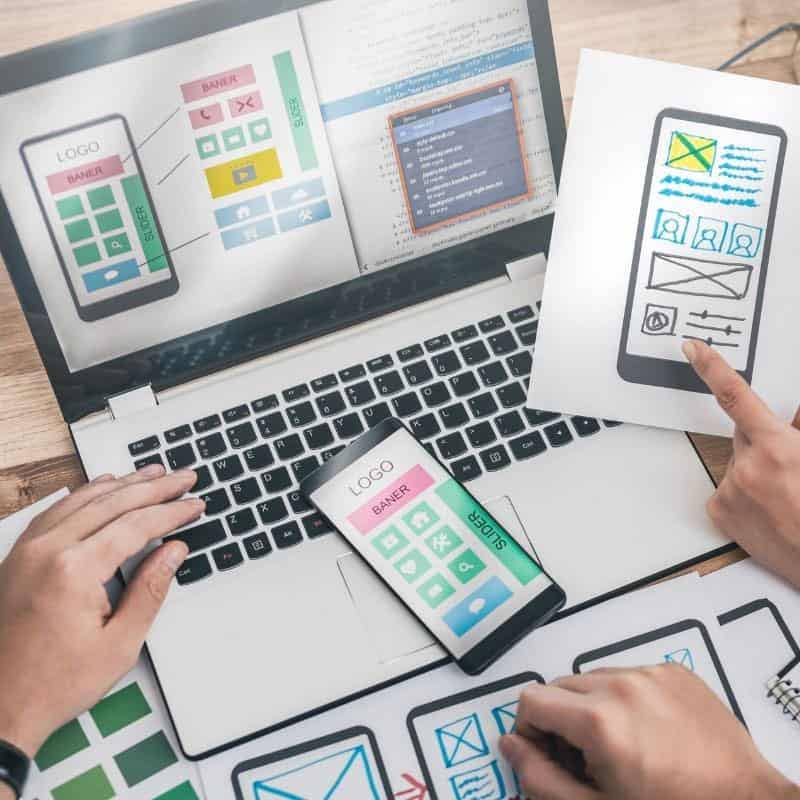 The Discovery Process
The first step is discovery. This is where the designer and client will sit together to determine the needs. You always will address who you are aiming this site towards and where are your sales. The web designer will need numbers to make your site as you want it. You need to know your sale numbers and who the website should be targeted to. Once you have done this, you can decide how you want the site to look. You find something that is pleasing to your eye. 
Creating the Website
Once this is done, you will find that the designer will make a prototype of your website and choose a color palette for your site. This is where he or she will put in all the information based on what was discussed in the paragraph above. Depending on where you go, you will find people who will make one site for you to look at while others make multiple to give you options. Some people do not like the choice of options; however, it does help to have some other alternatives to look at to combine the best features. 
Revision and Approval
The last step is for the client to review the site and determine if they are ready to launch it. The approval and revision process are going to take the longest because the client wants the site perfect. If the site is not perfect, it may not generate the traffic the client wants. 
A client and a web designer may go back and forth for many months until they both find something they can agree on. Sometimes a client is very meticulous and will make a web designer redo items that they do not like. 
CONCLUSION: What Is A Custom Web Design

Taking the time to get the perfect website is important. It is also important that you understand how the process works. When you hire a web designer, you need to be working with them, not against them. If you are working with them and tell them what you are expecting, this should be an effortless process. However, if you are changing your mind and nit-picking, it will be a long and expensive process.
Companies such as systMD are excellent and offer a range of services when it comes to custom web design. No matter what you're looking for, they are some of the best web designers in NJ. You can contact them for information or to get a quote on web design services.
Now you have all the information you need to answer what is a custom web design.