How To Design The Perfect E-Commerce Website
E-commerce sites are becoming more common, so it is important that you know how to design the perfect e-commerce website. It does not matter if you are designing the site for yourself, designing it for another person, or having an ecommerce web design agency design it for you; Having a good understanding of how to design an e-commerce website will be helpful. 
Keep reading to learn what you need to know about designing the perfect e-commerce website and the tips and tricks of the trade that you make you a top-notch e-commerce website designer. 
Your E-Commerce Website Design Should Be As Simple As Possible
One of the most important steps in designing the perfect e-commerce or retail website is making sure you are keeping the entire design simple. A common mistake that many people make when starting with an e-commerce website is they make it overly complicated. Complicated designs do not work, and they only serve to make customers frustrated as they try to figure out your website. 
Sites such as custom rental websites, online stores, and websites that offer customers an easy way to complete transactions benefit from simplicity. You should keep this in your mind during the design process because it will be helpful to your sales.
Do not bother with all these bright colors, and images, and banners, and pop-ups, and everything else that you can throw onto a website. All you are doing there is distracting people from the important aspects of your website. You want them to purchase things from your website, not get distracted from everything else you have on the website. 
The easiest way to remember to keep your design simple is the mnemonic KISS: Keep It Simple Silly. Just repeat this to yourself repeatedly when you are designing the E-commerce site, and you should never run into the issue of not keeping the design simple. Once you complete the website, go through it as if you are the customer and see if the design is simple and makes sense. 
PRO TIP: Read these helpful web design tips before you go on. We know you'll like them and find them helpful.
Go Through Your Website As If You Were A Website Visitor
Once you have fully designed the website, you may think you are done, but you would be wrong. Just because the website has been designed does not mean that it is the perfect e-commerce website. There is still one more important step that you will need to remember to accomplish before publishing the site so the whole public can see it. 
Take a break from your website for a few days so you can return to it with a fresh perspective. Go through your website from a visitor's point of view so you can see what they will see. Use the following list to check whether your website is simple and the perfect e-commerce website for your visitors.
Are you distracted by the color scheme of the website? Are the colors too bright? Are the colors too dark? Do the colors clash with each other?
Can you find everything you are looking for easily? Are things hidden around the website in categories, making it difficult to find items? 
Are the products that are being sold on the website organized in a way that makes sense for visitors? Do the products have proper tags and categories? 
Is the checkout and cart system easy and quick to work through? Is there any way you can simplify it even more to speed up the process for visitors?
Ensure That You Are Using High-Quality Images
Now you may want to hire a graphic design service for this one. Especially for your logo. Choose a professional logo designer near you because your logo is essentially the face of your brand.
When designing your perfect e-commerce website, you will want to make sure that you are only using high-quality images. Images are some of the first things that people will look at when they are on your site, so you need to make sure that what they are looking at are high-quality images. This allows you to put forth your best foot for your website. 
This applies to every image you have on your website, but if you can not find high quality for everything, focus on your products and landing page. These are the places on the website that visitors will see most often, and you will want to make sure that you are wowing the visitors that come to your website with those pages. 
PRO TIP: Read this article on how to start a rental business from home and get started!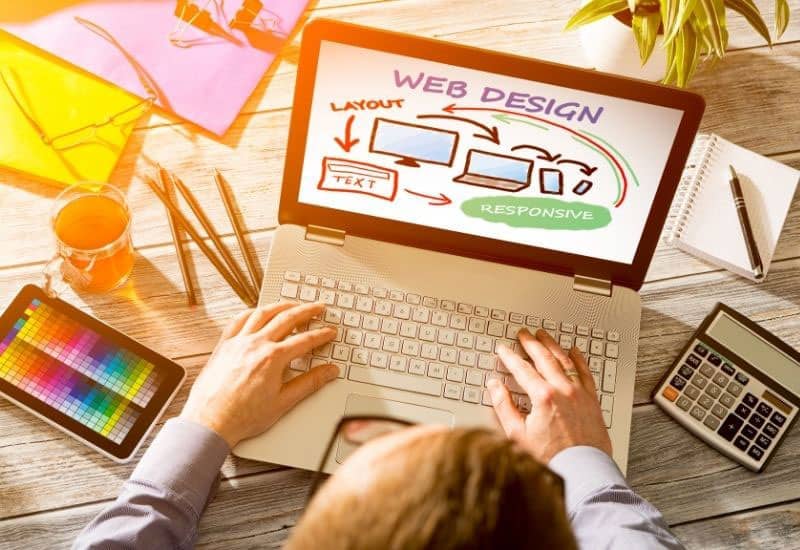 Your Website Should Be Designed For Both Computers And Phones
Another important thing to keep in mind when designing the perfect e-commerce website is to ensure that you have designed it to be responsive. A responsive website layout will ensure that you get more customers for your website, whereas a non-responsive website may not do very well in the internet world. 
By making your website responsive, you will make it easier for mobile users to access your website, and in the modern age, with the usage of smartphones, your website must still be easy for them to use. 
Conclusion:
Designing the perfect E-commerce site can take a lot of time and hard work, but it is better to put in the time now than later. You can also hire a company that specializes in custom web design and e-commerce sites such as systMD LLC. They are located in NJ and offer packages to meet your needs and that of your business.
Now that you know how to design the perfect e-commerce website get out there and start building yours now!